Exilis Elite
Novel Monopolar Radiofrequency (RF) Device
The Exilis Elite is an advanced, non-invasive device used for skin tightening and contouring of the face and body. The device is highly efficient, delivering maximum power without discomfort. Energy is delivered to the tissue at various depths—treating deep tissue with precision without affecting the surface layers.
Exilis Elite uses the most sophisticated delivery of RF energy that allows constant monitoring of the skin impedance changes during treatment. This allows us to gain the benefits of high power settings without compromising patient safety in any way.
How does the Exilis Elite procedure work?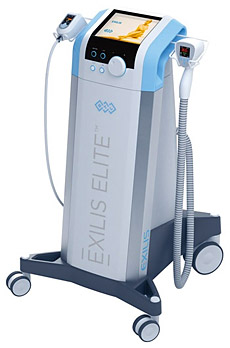 The Exilis Elite procedure delivers precisely controlled RF energy to deep layers of the skin to cause fat cells to shrink and the collagen supporting tissue network to remodel and form new collagen. This process results in fat reduction and improvements in skin laxity and texture.
Is Exilis Elite safe?
Yes! Exilis Elite is FDA approved for skin tightening – for the non-invasive treatment of wrinkles. There are controls built into the system as well that prevent overheating of the skin thereby ensuring patient safety.
Exilis Elite on TV
Learn more about reducing body fat and wrinkles with Exilis Elite.
For more information on the device, visit BTL Aesthetics website or contact our office.